SCOTTISH ORTHODONTICS UPDATE
Dear Patient
Notice to start face to face treatment
We hope this letter finds you and your family in the best of health. We are pleased to announce that our practices will be opening soon to see our patients. We will begin seeing patients with specific problems with their braces, appliances or wires from Monday 29th June 2020. We will see patients in accordance with the priority guidance given by the relevant bodies to book appointments when we are open. Please avoid contacting the practice unnecessarily. However, if you are in pain please feel free to contact the practice directly via telephone.
Whilst many things have changed, we want to reassure you that we remain committed to the safety of our staff and patients. Therefore, we are screening staff and patients before allowing them to attend the practice. Patients who have symptoms will need to follow the government guidance on social distancing and self-isolation until symptom free. If you have any of the following, we will be unable to see you for an appointment:
A new continuous cough
High temperature (37.8°C or over)
If anyone in your household has a new, continuous cough or a high temperature
If you or anyone in your household has tested positive for coronavirus and are still in the self/household isolation period
Have experienced a change or loss of taste or smell
We will only see low risk symptom free patients for face to face appointments in the initial stages of return to work.
We have always maintained the highest standards of infection control. We would like to inform you of changes we need to implement to reduce the risk to you, your families and to our staff.
All patients must stay outside the practice and call the number we would have sent to you upon arrival. Please do not try and walk in without calling.
Someone from the practice will call you to answer some questions
Upon arrival the patient's temperature will be taken. Patients with temperatures above 37.8 ̊C will be rescheduled. Please do not take any paracetamol prior to the appointment as this makes the readings inaccurate
Only the patient will be allowed in the practice (please contact us beforehand if you have any reasons why you need to attend with your child)
Patients will be asked to sanitise their hands on arrival and before leaving.
Patients will also be asked to ensure all their contact details are correct and up to date
You must maintain social distancing whilst in the waiting areas. The waiting area will not have magazines, toys or games as these are difficult to disinfect
No food is to be consumed on the premises
Patients must avoid touching any surfaces unless absolutely necessary
Appointments will be staggered to aid in social distancing and protect patients and staff. Therefore, appointments may be longer
Once the appointment is complete, we will send a treatment update with your child. Feel free to request a call to discuss the appointment with the treating clinician
We will do our best to allow more time between patients to reduce any waiting times and the traffic of people in the practice
Any appointments that can be conducted virtually will continue to be performed virtually to reduce the risk of exposure
Some treatments may be limited due to BOS guidelines regarding Aerosol generating procedures
We will not make appointments on the day and will instead send them out to you. Please contact us if you have to change appointments
Due to these guidelines, we will be seeing fewer patients per day so please be patient with us. We have a back-log of patients to see and will try to prioritise those in most need as per BOS guidelines. We will always wear a mask, a face shield and a disposable gown or apron. All team members will be health screened before their shift. Unfortunately, the virus is still a threat. However, we have always used universal precautions and we will continue to do so. We thank you for your understanding and patience in this difficult time.
Best wishes
Scottish Orthodontics
IN THE EVENT OF AN ORTHODONTIC EMERGENCY WE WILL BE ABLE TO GIVE VERBAL ADVICE ON THE FOLLOWING NUMBERS:
MOTHERWELL/CARLUKE - 07561 611 757
LONDON ST. EDINBURGH/MUSSELBURGH – 07561 685 139
MORNINGSIDE EDINBURGH/PENICUIK/LIVINGSTON - 07389 786 604
DUNFERMLINE/KIRKCALDY - 07435 879 185
SHOULD YOU BE SUFFERING FROM AN ACUTE EMERGENCY, CONTACT NHS 24 ON 111
FOR ADVICE DURING OUR CLOSURE CLICK HERE
PLEASE ALSO SEE THE VIDEO LINKED HERE EXPLAINING WHAT TO DO IF YOU ARE IN PAIN OR DISCOMFORT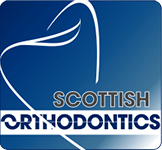 Book a complimentary consultation
Not sure what treatment is right for you?
Come in for a complimentary, no obligation consultation and let us find the right one for you.